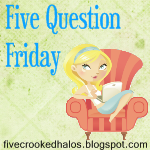 1. Where did you meet your spouse and did you instantly know it was love?
I met my spouse in IRAQ…yes we met in a war zone. I was a contractor he was military. We arrived within 2 weeks of each other, and left within 2 days. WE spent our 2 week R&R in Greece over Valentines day!
2. What is your f
avorite room in your house?
Hmmm….my bedroom. At least for the next week until we move. We have been very sparing on using the propane in our rental home since we are moving next week, so the heat is OFF (thank God we are in NorCal and in the middle of a hot streak). So I have been huddled up on the bed with the dog for a while. LOL
3.
Can you wiggle your ears?
Nope. Not even close!
4.
What is your evening ritual?
HA HA…There is a card game that my family has played for years. And when my parents and grandmother came to visit a few weeks ago, we played and played. NOW my husband and I play at least once a day. Its sweet. Reminds me of my grandparents. They used to do the same thing until my grandfather passed.
After dinner, we workout (run or ride our bikes) then play cards, then read. We recently took our ONLY TV in the house to my photo studio and then canceled out cable. So we have NO TV in our place. which is nice! If we get the yearning to watch something we pull out the laptop and rent a movie on iTunes…it brings us back to our Iraq days.
5.
How many hours of sleep do you need to function?
A LOT…I like at least 8 but it all depends.