Its been a while since I participated in this but its so fun!! Thanks
MamaM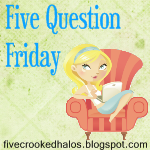 1. Have you ever forgotten your child in a store or at school?
2. Where did you go on your very first date? (Like...first first, not first with your spouse or current significant other!)
I think it was McDonalds. LOL I seriously cant remember.
3. What's your "silly" fear? (We're not talking water and heights.)
Sitting on a public toilet seat without a gasket (the cover)
4. Confrontation: do you cause it, deal with is as it comes, or run far far away?
Depends on the fight. Depends on what's wrong and why.
5. Wood floors or carpet?